Welcome to Orphan Black Wiki, a collaborative encyclopedia for everything and anything related to the TV show Orphan Black. In this wiki, find out all about the show, recent media, the cast, and more! The wiki format allows anyone to create or edit any article, so we can all work together to build a comprehensive database for fans of the show Orphan Black.


Don't forget to visit this wiki's guidelines before editing.


To date, there have been 18,509 edits to this wiki. 148 articles and 9,123 files have been added since this wiki was founded, and we are still growing.
Featured Video
Featured Character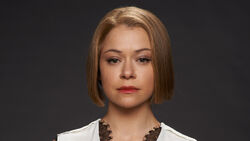 Rachel grew up aware of who and what she is as she was, according to Amelia, "a child raised by Neolution" and is thereby dubbed as a "proclone" by Felix. Years into adulthood, she is still working with her creators and, upon discovering that some of her fellow clones have become self-aware, is even trying to get the other clones to work with them.
Read more...

Poll Booth
Who is currently your favourite clone?
Latest News
Loading RSS data...
Community Blogs

Join The Chat
Join the Chat>
Links
Official Space website
Official BBC America website
Orphan Black on Facebook
Orphan Black on Tumblr
Orphan Black on Twitter
Orphan Black on Instagram
Social Networks